Tribes of Midgard Steam Key GLOBAL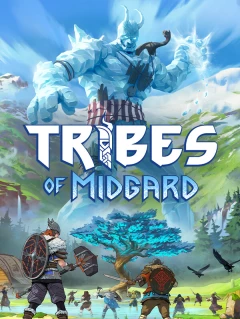 Tribes of Midgard Steam Key GLOBAL
Buy Tribes of Midgard Steam Key, Brave the cold depths of Niflheim on your journey to save a god from the realm's tyrannical ruler! Forge new Weapons, don new Armors, consume new Meals and wield powerful new Runes on your epic quest!
When not out adventuring, relax and take some time to expand your settlement by building bigger and higher than ever before! Farm to grow your own ingredients to sustain your tribe. Discover Saplings out in the wild to defend. All this and more awaits you in the Witch Saga!
Tribes of Midgard Features
Save The Day, Your Way: Travel across procedurally generated worlds by land and sea to harvest resources, gather loot, craft powerful Weapons, level up your Einherjar, chase chickens, and complete hundreds of challenges to unlock new rewards in the most colorful Ragnarök you've ever seen!Because one Game Mode was not enough, we made two!
Survival Mode: This mode lets you take your adventure to the far reaches of Midgard at your own pace. Explore, craft, and build your perfect Viking home anywhere you see fit through your mighty Allforge. Choose among 90 skills as you level up and fight your way up the Jötunn food chain until you can face off against the all-powerful Ancients and discover what awaits you at the end of your epic Saga.
Saga Mode: This fast-paced, time attack mode requires you take on the forces of Ragnarök before the endless winter takes hold. Unlock and specialize among 8 unique classes to defend the Seed of Yggdrasil, fortify your Village and stop your enemies every nightfall for as long as you can. The greater your accomplishments, the greater your rewards when you take the Bifröst to return to Valhalla!
Face Colossal Threats:The bigger they are, the harder they'll fall! And trust us—they're pretty big!
Forge Your Viking Legend:You are in control of your own destiny, Einherjar!
Rally The Tribe:You don't have to do it alone, save some glory for the rest of us!Adventure solo or form a tribe of up to 10 players in online PvE co-op. Play together to build a functioning village, complete with formidable defenses, towering structures and top-of-the-line crafting stations! Or just an aesthetically pleasing Viking homestead with some well-earned decorations! The game difficulty adapts to the amount of players in a world. Note that we recommend taking on Ragnarök with a tribe of four or more.
Keep Up the Fight:Never has the end of the world been so bright and fun!Continuous free updates and limited time Festive Events bring even mightier treasures to the endgame. Play to accumulate Golden Horns and redeem them to unlock a myriad of recipes, including Starter Kits, Runes and Equipment, to make each new session more rewarding. Progress through the Season Track and complete hundreds of challenges for even more. Make each saga your own by wearing your best costumes and bringing your cutest pets along!
Cheap Tribes of Midgard Key price!
Product Type
Genres
Playable device
Languages
English
Japanese
Korean
Simplified Chinese
Traditional Chinese
Thai
German
Spanish - Spain
French
Italian
Dutch
Polish
Portuguese - Brazil
Russian
Swedish
Ukrainian
Publisher
Gearbox Publishing
System requirements
Minimum:


OS: Windows 7 64 Bits

Processor: Intel Quad Core i5-2300 or AMD FX-6300

Memory: 8 GB RAM

Graphics: Nvidia GeForce GTX 560 (1GB) or AMD Radeon HD 7770 (1GB)

DirectX: Version 11

Network: Broadband Internet connection

Storage: 8 GB available space

Sound Card: DirectX® Compatible
Recommended:


OS: Windows 10 64 Bits

Processor: Intel Quad Core i5-2300 or AMD FX-6300

Memory: 8 GB RAM

Graphics: Nvidia GeForce GTX 780 Ti/970 (High Settings) and 1070 (Ultra Settings) or AMD R9 290/AMD RX480 (High Settings)

DirectX: Version 11

Network: Broadband Internet connection

Storage: 8 GB available space

Sound Card: DirectX® Compatible
You may also like