Human: Fall Flat XBOX LIVE Key ARGENTINA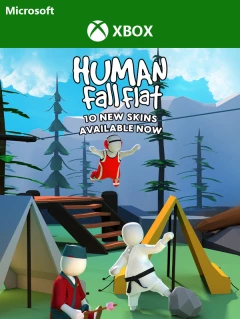 Crossplay with friends on Xbox One, Xbox Series X|S and Windows 10.
Includes 19 great levels. Over 35 million units sold across all formats.
Humans! Prepare to escape to the great outdoors for a woodland adventure of a lifetime.
Climb, zipline and swing through the canopies, or ride the roiling rapids through verdant vegetation. Grab up to seven friends and have your teambuilding skills pushed to the limit in Lumber!
The level from Workshop creator David Nielsen is the ultimate team bonding experience. Leap from upturned logs and swing from monkey bars before experiencing the sheer exhilaration of white water rafting!
Human: Fall Flat is a hilarious, light-hearted physics platformer set in a world of floating dreamscapes.
Each dream level provides a new environment to navigate, from mansions, castles and Aztec adventures to snowy mountains, eerie nightscapes and industrial locations. Multiple routes through each level, and perfectly playful puzzles ensure exploration and ingenuity are rewarded.
This game leverages Smart Delivery allowing access to both the Xbox One title and the Xbox Series X|S title.
Product Type
Genres
Playable device
Languages
English
Japanese
Korean
Simplified Chinese
German
Spanish - Spain
French
Russian
Developers
No Brakes Games
You may also like