Steam Wallet Gift Card 200 HKD Steam Key Hong Kong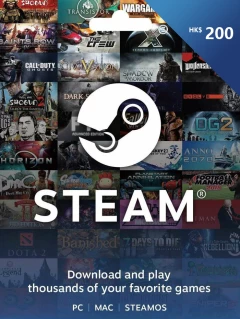 What is Steam Wallet Gift Card 200 HKD?
Steam Wallet Gift Card is a digital card with a specific sum which you add to your funds to your Steam Wallet account. It enables you to make purchases in the Steam store.
Many gamers use or are familiar with Steam - one of the most distinguished gaming platforms providing millions of users with gaming content up to date.
Steam Wallet Gift Card 200 HKD will provide you with just enough money for your Steam Wallet to explore the Steam store and pick games that will suit your taste and play style!
How to use a Steam Gift Card?
Steam Wallet codes vary in value they hold - you can check them all out in our Steam Gift Cards collection. Using a Steam Gift card is quite easy, you simply have to redeem it in your Steam account following just a few quick steps provided below.
Once you activate a 200 HKD Steam digital gift card in your Steam account, 200 Hong Kong dollar will be transferred to your Steam Wallet directly and after just a few moments you can use your virtual funds.
So treat yourself or get a great gift for your gamer friend - either way, Steam Wallet Gift Card 200 HKD is a great choice!
How to activate a Steam Gift Card?
Go to the Steam Redeem page and log into your Steam account.
Enter your code into the code field.
Click "Continue" to redeem the code.
Done! The gift card value has been added to your Steam Wallet.
Matters needing attention when using Steam Wallet Gift Card 200 HKD
Your Steam Gift Card currency must match that of the Steam User Account it will be redeemed to, or you will get an error.
Currencys
You may also like